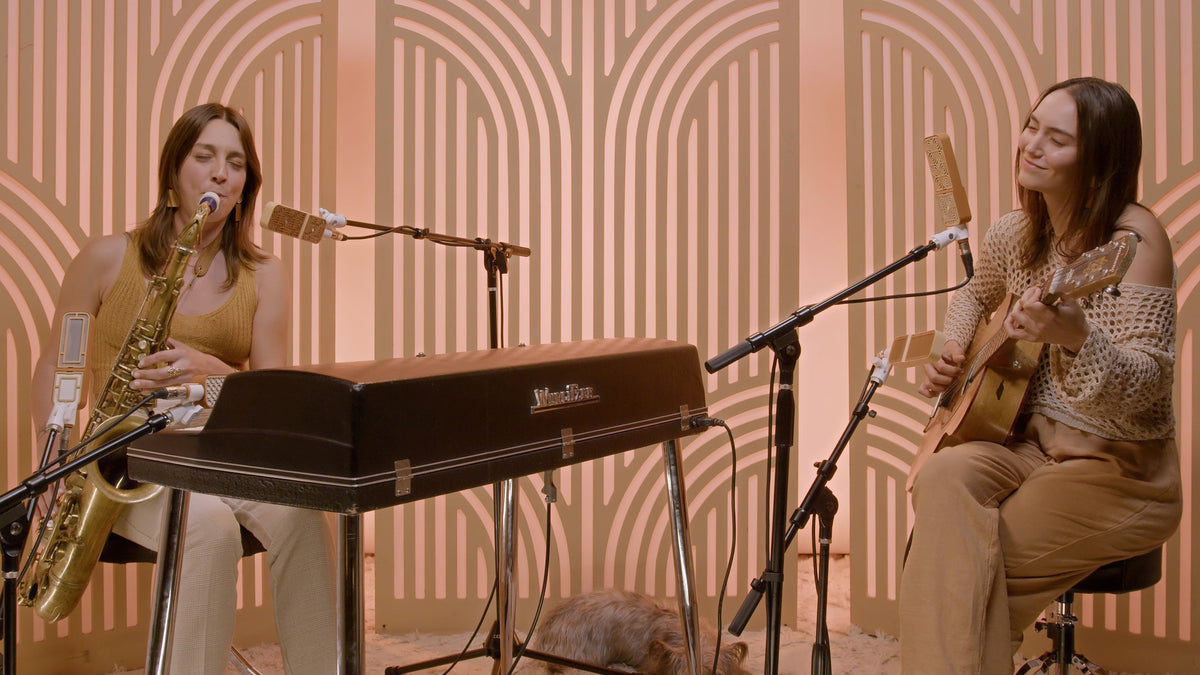 OHMA "Between All Things"
In a delightful musical mélange, OHMA and Ohma World have joined forces with Hailey Niswanger on saxophone & keys and Mia Garcia on rubber bridge baritone guitar performing their original song "Between All Things".
OHMA showcased their unique style through their custom Ohma microphones (hehe), choosing the warm tones of Apricot and Eyelid Orange. To set their mics apart, Mia selected an Eyelid Orange body with Apricot screens, while Hailey chose an Apricot body and Eyelid Orange screens. (Apricot isn't currently available in the customizer, but we're open to adding it!)
Handpicked with precision, each screen was chosen with the instrument in mind. The tune was captured with Motif Condensers on vocals and a palette of ribbon mics for each instrument. The Windows Ribbon adeptly captured the saxophone's wide sonic range, while gently tempering the higher frequencies. The Wurlitzer's extensive sonic spectrum was embraced by the Holes Ribbon. Positioned near the guitar's neck, the Stripes Ribbon intricately picked up the charming mid-range tones, and the Scales Ribbon, used on the guitar amp (off-screen), skillfully moderated the baritone's deep resonances.
Watch Video
Vocals
Wurlitzer
Saxophone
Guitar
Guitar Amp (off-screen)
Featured Products
About OHMA
OHMA, founded by Mia Garcia and Hailey Niswanger, is a musical duo known for their experimental and immersive soundscapes. Their work, characterized by a deep commitment to blending natural sounds with electronic elements, creates a unique auditory experience. In 2021, they crafted "Between All Things," an album that exemplifies their innovative approach to music-making. Using a variety of instruments, from earthy bass tones and gentle saxophones to analog synthesizers and vintage drum machines, they evoke a wide range of emotions in their listeners. Integral to their creative process is the incorporation of natural sounds, like the rustling of leaves and the songs of birds, merging the rhythms of nature with their melodies. Their playful and exploratory ethos in music production invites listeners into a world where each track is a journey, both familiar and new.
Follow OHMA
More Videos